I'm writing this post with exciting news of a new release, my YA, romantic horror novellete, 'Be Afraid of the Dark', which has just been published. It's a quick read of 10,000 words (or approximately 40 pages of a paperback) and is for sale now for only $0.99 or £0.75! It's a perfect length for that commute to work, lunch break, or perhaps even as a filler between novels so you can get over that book-hangover!
Ever since Lexi Harding'
s four-year-old brother was snatched from his bed, Lexi has been afraid of the dark. A reporter on her school newspaper, she is nervous about taking her editor's assignment of heading into the old copper mines near her school-especially because eight miners went missing exactly one hundred years ago and today is Halloween. Only the promise of being able to spend the evening with the mysterious and sexy Dylan Turner gets her to say yes.
But when Dylan's camera catches an eerie figure in one of the tunnels, and one of the group is dragged away by something unseen, Lexi has to wonder if she and Dylan will make it out alive.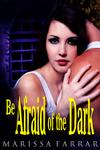 The book is available to buy from
Amazon.com
,
Amazon.co.uk
,
Kobo
, and
Barnes and Noble
!
I know you are probably eager to hear news about Serenity's next book, Endless. Well the good news is that edits have now started and are going along faster than expected! I currently have a release date of 2nd of May, so put it on your calender! Of course, if the book is ready sooner, then the release date will be brought forward, but I generally find these things are best not rushed.
In the meantime, I hope you enjoy 'Be Afraid of the Dark.'